POLYNT COMPOSITES COMPLETE GEL COAT RANGE FOR THE SWIMMING POOL MARKET – NEW SEASON, NEW RANGE, NEW LOOK
Business
> published on 26 October 2018
Polynt Composites Europe introduces their complete range of gel coats developed specifically for the Swimming Pool market, perfect for enhancing your product portfolio and attract the attention of your customers.
As Market Leader in the production of gel coats for Swimming Pools in Europe, Polynt Composites Europe would like to introduce you to their exciting new catalogue of colours and finishes, which will make your 2019 product range stand out from the rest of the market.
Following its success, within other regions such as the United States and Australian markets, some of the technologies have been transferred to Polynt Composites European business to create a more complete and beautiful range to answer an increase in demand for individual or unusual colours and effects by the end user.
With dedicated R&D teams, Business Development leaders and skilled local Technical Service Representatives with years of experience, you and your customers will be assured that choosing gel coats from Polynt Composites Europe will offer durability, sustainability and be of the highest quality necessary for this market.
Last but not least, Gelcoat manufacturing plants located in multiple countries in Europe (France, Norway, Italy, Poland, Spain and UK) allow fast response and excellent delivery service to the entire customer base.
Standard colours – Our traditional range of ISO NPG gel coats in a specially selected colour palette offering ease of use, excellent resistance to osmosis and reduced colour fade caused by sunlight and / or Chlorinated water treatment chemicals.
Mystic – A dazzling range of Sparkling Swimming Pool colour effects based on our well known ISO NPG base gelcoats with exceptional water resistance and long lasting UV stability. To view the range of Mystic gel coats, please view our video on youtube
https://www.youtube.com/watch?v=R4xx4dsGE0c
Granitea – Part of the well renowned Mesmeric range of Swimming pool gel coats manufactured on our high performance ISO NPG bases offering fantastic stone texture effect finishes.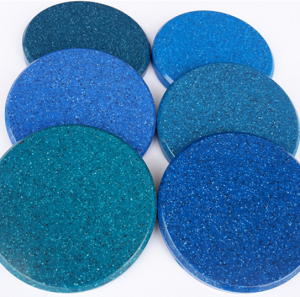 Fusion – Our latest product addition offering our highest level of water blush resistance, enabling great application and colour stability for darker shades of colour
Tested on pure black gel coated composites, the table below demonstrates the high performance of the NPG formula and the incredible resistance to blushing / colour change seen with the FUSION technology only available from Polynt. We see very little difference in colour after the standard 1 day test, so we run our tests for 5 days, which is much more severe for the Gel Coat.
| Chlorine resistance test @ 60°C | Market leading NPG | FUSION |
| --- | --- | --- |
| Colour change, DE after 24 hrs | 1.3 | 0.1 |
| Colour change, DE after 120 hrs | 4.1 | 0.3 |
As a perfect partner to use with these gel coats, we also produce top grade Unsaturated Polyester, Vinyl Ester resins and Barrier Coats…..
Polynt Composites Europe Swimming Pool gel coats are available in a broad spectrum of highly attractive colours for you to explore. The gel coats come ready to apply, in both brush and spray, (needing only the addition of Methyl ethyl ketone peroxide (MEKP)) and the spray grade is for use with airless or air assisted spray equipment.
Polynt Composites Europe is the global leader for Gel Coat, with production sites in Americas, Europe and Asia and is also the leading producer of Unsaturated Polyester Resins in Europe.
For information on the new range, contact Polynt Composites Europe in your region, (contact information available on our website).